Nephrectomy means removal of kidney. Nephrectomy has many indications, for both simple and radical approaches. A simple nephrectomy is indicated in patients with irreversible kidney damage due to symptomatic chronic infection, obstruction, calculus disease, or severe traumatic injury. Radical nephrectomy is the treatment of choice for localized renal cell carcinoma (RCC). In certain circumstances, radical nephrectomy is also indicated to treat locally advanced RCC and metastatic RCC.
Overview
With the advent and increasingly mainstream use of abdominal CT scanning and ultrasound imaging in recent years for various abdominal and, occasionally, chest complaints, incidental detection of RCC has increased in asymptomatic patients.
Currently, more than 50% of RCC cases are detected incidentally. These tumors tend to be smaller and of lower stage, resulting in better survival rates, lower recurrence rates, and lower metastasis rates than RCC detected in symptomatic patients.
Symptomatic RCC presents at a significantly higher stage and grade, and tumors are substantially more aggressive than incidentally discovered lesions, particularly at later stages. Several factors have been associated with increased risk of RCC.
Obesity and cigarette smoking are the most consistently established causal risk factors, accounting for more than 30% and 20% of renal cell cancers, respectively.
Hypertension as an independent factor is associated with increased risk of RCC.
A family history of RCC is associated with a 2- to 3-fold increased risk of RCC.
However, a familial predisposition is identified in less than 2% of RCC cases.
Presentation
With the increased use of imaging techniques over the past 2 decades, up to 70% of RCC cases are identified incidentally after investigation for unrelated abdominal pain or other non-urologic symptoms.
Haematuria (blood in the urine)
Presenting symptoms may be related to bleeding in the tumor, resulting in stretching of the renal capsule and pain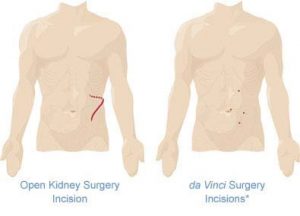 Advantages of Robotic Radical Nephrectomy over traditional open surgery.
Less Pain
Reduced blood loss
Less complications
Short hospital stay
Early return to normal daily activities