Cystectomy is the removal of all or part of the bladder and possibly the removal of nearby lymph nodes and organs that may contain cancer. If the bladder is removed, the surgeon creates a new way or path for urine to be stored and to leave the body
Overview
Indications for Cystectomy.
Multiple papillary tumours of bladder uncontrolled by endoscopic means, chemotherapy or immunotherapy (Ta and T1).
Invasive TCC of the bladder (T2, T3).
Bladder TCC invading the prostate (T4a).
Squamous cell carcinoma, Sarcoma or adenocarcimoma of the bladder.
Palliation for pain, bleeding or urinary frequency.
Cystectomy is traditionally performed using an open approach, meaning the surgeon must make a large abdominal incision to access the bladder.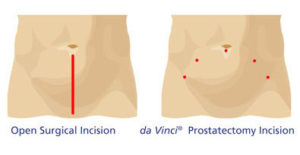 Robotic Cystectomy offers several potential benefits to bladder cancer patients over traditional open surgery, including:
Significantly less pain
Less blood loss
Less occurrence of major complications
Shorter hospital stay
Quicker recovery of bowel function